B2B marketers need to think about their strategy before they do anything. Careful planning and consideration of how you will execute your plan is the key to success in B2B marketing.
If you look at the see think do care framework, it can help you set up a clear plan for your marketing efforts. This blog post will show you how you can use this framework for your b2b online marketing.

The customer journey along the See Think Do Care Framework.
A lot of b2b businesses try to market their products by using the common marketing funnel. The problem with that is that it usually only gives results for a limited time because it's not built on building long-term relationships with customers and creating value before and after making an initial purchase.
That is where the See Think Do Care framework comes in. A holistic digital marketing approach that can establish trust over the course of your target customer's journey.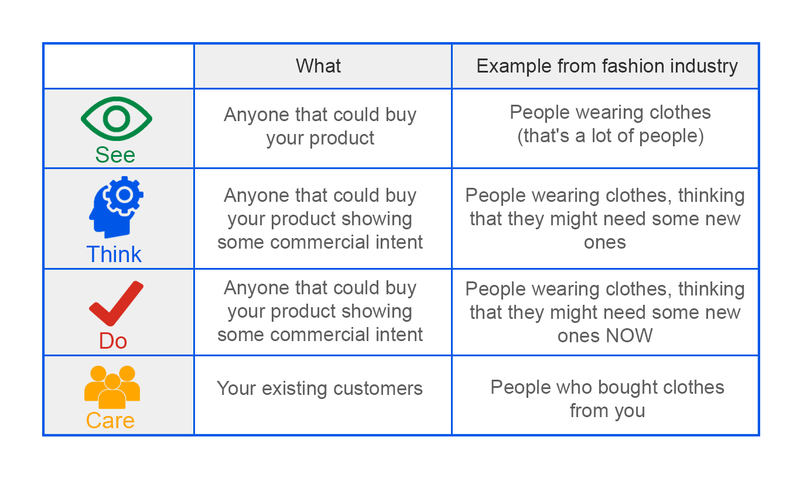 Source: Think With Google
1. See Stage
Users in the SEE stage are the largest possible target group that your business can reach. At this point, the user is still unfamiliar with your product. But he has shown interest in topics that are related to your product or service.
Your objective in the SEE stage is to introduce your business to your target customer. Building brand awareness among B2B decision-makers will increase chances for a successful sale later down the line!
To take advantage of this huge and largely untapped market, start with a content strategy to establish yourself as a thought leader in your industry. Running attention-grabbing display ads or social ads can also help to build brand awareness during the SEE-Stage.
In addition to the affinity audiences and in-market audiences in Google Ads, custom audiences can help you reach your target audience in the See stage.
2. Think Stage
The THINK stage is when customers are looking for more information about what they are interested in. They have not decided to buy something yet, but are looking for tips and advice.
You can capture the searches with informational intent by publishing "how-to" guides or white papers. In addition, doing keyword research can help to find content ideas. Therefore, one of your marketing objectives for this stage should be to improve your organic rankings through SEO.
In addition to that, consider running a Google Ads search campaign for these upper-funnel keywords. The competition for such keywords is usually lower, and you can use lead magnets like whitepapers to boost newsletter sign-ups.
Make sure you can track these micro-conversions on your website. Are you using HubSpot as a CRM? If so, you can easily connect it to Google Ads and leverage smart bidding to get even more micro-conversions.
You can also run a remarketing campaign and target visitors who have not converted with display ads.
3. Do Stage
A user at the Do stage of their customer journey should be ready to buy your offer. This means they have made a purchase decision and are looking for the right provider. Now is the time to focus on KPIs like hard conversions, cost per lead/sale and return on investment.
Combine SEO and Google Search Ads for being visible for transactional queries with a buying intent. Most importantly, run a separate search campaign to retarget marketing qualified leads like whitepaper downloaders and turn them into sales qualified leads. It is time that you bring this deal home!
4. Care Stage
The care stage is the one where you get to make a difference. The more information your customers have, the better off they will be. That's why you need to use different methods to reach them all and make sure that everyone feels satisfied with their purchase.
For example, if someone has a question about how something works or what it does exactly, they can take advantage of the FAQ section on your site, where there are answers for questions commonly asked by other people like themselves. This way, you are saving time answering individual customer inquiries when others might know just as well how to answer those same questions!
Alternatively, communities like Facebook Groups allow your clients an opportunity to communicate about your offer and provide support for one another while allowing yourself (the business) some hands-off moments, so you don't get burnt out from constant interactions.
Remember: Existing customers are easier to sell to. So delighting should be your priority!
Conclusion
As you see, Avinash Kaushik's approach to marketing is not the typical marketing funnel we are used to seeing. However, this framework represents a realistic and long-lasting way of thinking about how customers experience your product or service.
The customer journey can move back and forth through different stages and skip a certain stage in some cases because it takes a holistic view before judging what will work at any given time for that person/customer.